GEO86ZAA PAGER
The Ever Popular GEO86ZAA Re-Chargeable Pager
The Big Screen Re-Chargable Alternative
The GEO ZOOM pager has proved a big hit with customers. With its large easy-read display and simple operation it is used in a wide diversity of applications.
This pager is ideally suited for applications where large amount of text is required, perfect when integrating paging with fire panels as the message can be read on one screen without the need for scrolling. Two charger options are available one of which can be used in conjunction with a vibrating pillow pad for waking people with hearing difficulties in the event of fire, often used in Student accommodation and Hotels.
Main Features
Address & frequency hand programmable (password protected)
Storage: Repeat message rejection: optional 1,2,5,10 minutes or disabled
Low Battery indicator
Out of Range (NO Service) Indicator
Repeat Message Indicator
Error Message Indicator
Unread Message Indicator
Alert Modes: Vibrate, Tone, Quiet Tone & Mute
Alert Length: 8, 16, 32 or 64 second programmable
Urgent Call (Tone + Vibrate)
Real Time Clock with Alarm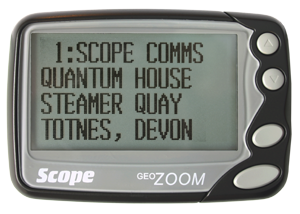 Charger/Nightstand
Available with an optional pillow vibrator, the Nightstand has a programmable hi-intensity flasher, an escalating alert siren and an external antenna for improved reception. It also acts as a charger when the pager is clipped in place. Ideal for alerting the hard of hearing at night in hotels, residential halls and the like.
Key Feature
Intelligent charger with universal
input AC adaptor
On-screen charge status & diagnostics
Selectable hi-intensity flash alert
Selectable escalating alert siren (+95dBA)
Pillow vibrator output
Relay output (N/O, N/C)
External antenna with gain amplifier
USB port for programming and
data output/call logging