Fire
Scope's versatile products are used extensively in the fire industry to provide monitored radio links between fire systems in different buildings, to alert people with hearing difficulties in the event of a fire, to transmit fire control panel data to mobile alerting receivers, to transmit pre-set messages to mobile radio pagers and to provide radio switching for simple integration with other equipment. Whatever the application we most likely have the solution!
F-Link XP
Switched relay expansion unit for F-Link4 System
The perfect addition to your F-LINK4 system. The F-Link XP provides switched relay output notification from the F-Link4 Master unit to the Master Fire Control Panel, indicating which F-Link Node has gone into alarm.
The standard unit has 15 output relays, which can be expanded to 30 relays with an additional relay board.
EPOC-S Responder
The EPOC-S heralds the beginning of a new era in critical response communication
Rugged IP67 rated two-way messaging alerter with Man-Down and SOS transmit functions. Large multi-colour screen can be programmed to provide colour-coded alerts. Manual and auto acknowledgement of messages provide reassurance when used in hostile environments.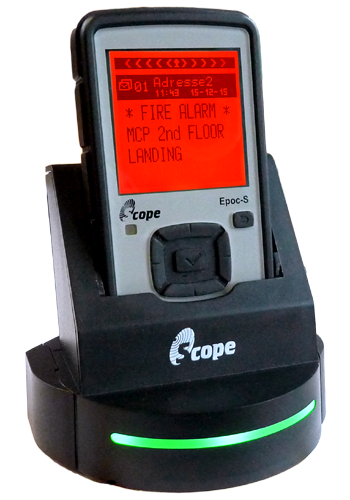 GEO40A10 Pager
A10 is the latest version of the best selling Scope GEO40 personal messaging receiver
8 addresses, multiple vibrate patterns, tactile Out of Range and Low Battery alerts, frequency programmable.
GEO87Z Pager
The Big Screen pager alternative
With its large easy-read display, icon-driven menus and simple operation, it is used in a wide diversity of applications, from supermarkets to nursing homes.
GEO86ZAA Pager
Rechargeable when used with CNS Nightstand
AA size battery powered version of the popular GEO 87Z pager, with added functionality when used with the CNS Nightstand, making this the ideal pager for use with the Pagetek Pro system
PageTek Pro 2
Alerting the hearing impaired to a fire alarm
PageTek Pro 2 is a well-established self-monitoring transmitter, which in the event of a fire, alerts the hearing impaired using a personal-issue pocket receiver. This vibrates and indicates the emergency on-screen.
For residential occupants, a Nightstand cradle & pillow vibrator is also available.
Used widely in workplaces, schools, colleges, and public buildings.
PageTek 4
Equipped with 5 or 10 programmable inputs
A highly versatile switched input transmitter with a myriad of uses, often deployed to monitor conventional control panel activation & door monitoring. Each input can be programmed with predefined messages for onward transmission to handheld receivers carried by fire marshals or security personnel.
F-Link 4
The secure way to link multiple fire systems
Where buildings are in proximity, a fire in one can affect the other buildings. An F-Link 4 radio mesh network system connects the fire control panels in all nearby buildings together.
Therefore, a fire in one building is reported to all, with each F-Link 4 node indicating where the alarm came from. Scope's Digimesh™ signalling technology provides robust performance and on-going reliability.
Connexions
Instant text data direct to handheld receivers
Connexions forwards fire control panel events and pre-alarm information directly to fire marshals' handheld receivers, thereby avoiding the need to go back to the fire control panel. This saves precious time in the event of a false alarm, prevents disruption and can save considerable costs caused by productivity downtime.
Software interfaces are available to operate with most popular analogue addressable fire systems.